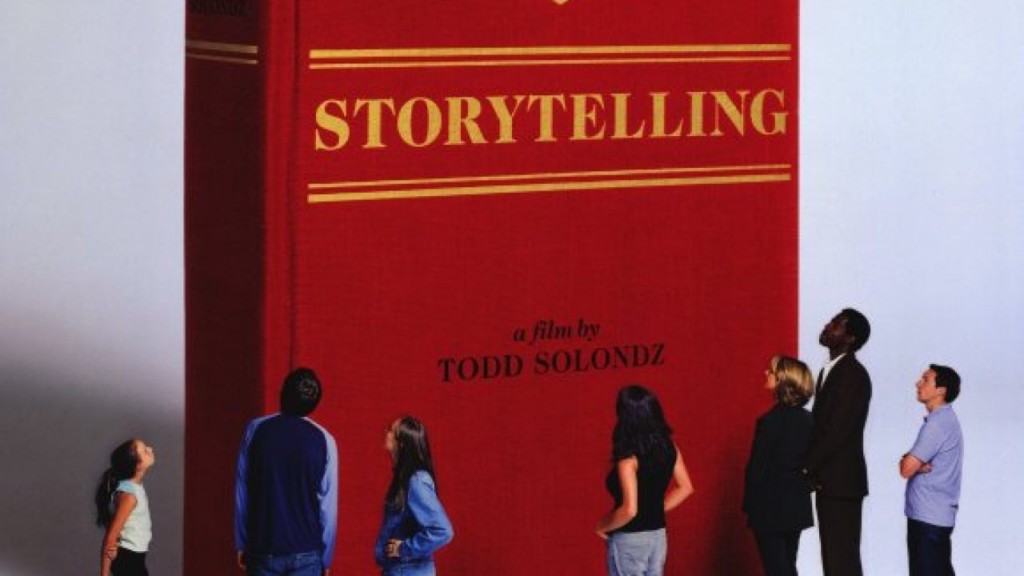 English text below
Statt Filmen auf der unserer Kinoleinwand wollen wir Ihnen während der Corona-Kinopause online andere Aspekte der Filmkultur vermitteln. 
Nachdem zwei Gespräche mit Hal Hartley und David Lynch über Mulholland Drive den Anfang gemacht haben, geht es weiter mit einem Interview mit Todd Solondz anlässlich der Premiere von Storytelling in Cannes (2001). 
Michel Bodmer, stellvertretender Leiter des Filmpodiums Zürich, schreibt:
Im Januar/Februar 2020 zeigten die Kolleginnen und Kollegen vom Cameo Winterthur vier Filme von Todd Solondz, «Enfant terrible des US-amerikanischen Kinos». Einer, der dabei fehlte, war Storytelling (2001), sein besonders beklemmendes Diptychon über Sex, Rassismus, Promi-Kult und Ausbeutung und die Geschichten, die wir (über) uns erzählen. Beim Gruppengespräch darüber in Cannes erwies sich Solondz als sehr witziger und selbstironischer Filmautor, dessen Vorstellungen von einer Komödie allerdings nicht unbedingt massentauglich sind.
Storytelling findet man online auf Amazon Prime.
Michel Bodmer, deputy director of Filmpodium, writes:
In January/February 2020, our colleagues at Cameo Winterthur screened four films by Todd Solondz, "the enfant terrible of US cinema". One title that was missing was Storytelling (2001), his particularly upsetting diptych about sex, racism, the cult of celebrity, exploitation and the stories we tell (about) ourselves. At the round table in Cannes, Solondz proved to be a very funny and self-ironic filmmaker, whose idea of what constitutes a comedy is not exactly mainstream.
Storytelling is online on Amazon Prime.